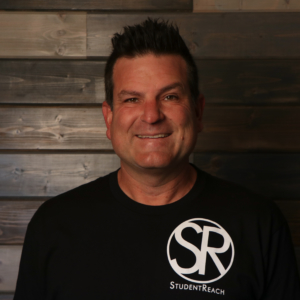 Jeffrey Devoll
Executive Director
Bio: Jeffrey Devoll, executive director of StudentReach, is an international speaker, trainer, facilitator, and mentor to students and leaders.
Jeffrey has spoken to over 1,000,000 people from 40 states, 40 countries, and on 5 continents. He has spoken in school assemblies, staff development, small group coaching, conferences and leadership settings. Jeffrey is more than a speaker though; he and his team have taken more than 6,000 people on domestic and international "expeditions" to help schools and needy people around the world.
Jeff is most proud of his 26-year marriage to his wife Tanya, and of his two teenagers, Declan and Dakota.
-Favorite Quote: "Don't cry because it's over, smile because it happened" - Dr Seuss
-Deep thought: "If you don't know about introspection, it's time to take a long hard look at yourself."
-Favorite City: Rome, Italy | College: Santa Cruz, California | Current City: Sacramento, California | Hometown: Chico, California
-Travel: 31 countries | 42 states | 5 continents
uReach Global
Who is uReach?
If you're here, you're wondering what uReach is all about. In one sense, who we are isn't important.
Who U are is what we care about. You are the U in uReach. We provide opportunities for U to be awesome.
U can reach deeper inside than you have before. U can extend your reach beyond your current influence. U can reach people who are desperate for someone to help them.
This is where uReach comes in. We can be your guide to be the hero you know you can be. We've been doing it for a long time.
My Story:
In 1995, I traveled with a group of students who needed a leader to Romania. My life was forever changed.
I was uncomfortable, our accommodations were terrible, and the food made me vomit several times each day (I lost 10 pounds in 9 days!). We had no safe bottled water, and we could only buy carbonated water or coke to survive. The electricity in our 8-story hotel (consisting of endless concrete rooms), went off every night for 12 hours leaving us in the pitch-black darkness, with no light. There was only one phone in the entire city to call home and no internet. I had never seen such need. We were there to help, and I was hooked for life.
The next year, I led 250 students on a 22- day trip to the same place. This led to many more summer trips to more amazing places until 2008, when everything changed.
In January of 2008, my dad invited me on a trip to build a house in a place I'd never heard of in rural Baja California, Mexico. I found indigenous people (who had migrated from Southern Mexico to be farm laborers), living in absolute poverty, and I recognized that we could mobilize groups of people to be part of the solution. Since that time, we have done over 100 housing and education projects in the San Quintin Valley. Hundreds of groups, families, and individuals have been a part of this. We are currently building a community for single moms and their children escaping violence, a volunteer base, and a youth camp.
In 2015, I visited Nicaragua with a good friend to see what we could do in the second poorest country in the western hemisphere. He had been part of a group that did a clean water project and was wanting to do more. I instantly knew that we would be mobilizing others to help the people of Nicaragua. Since then, we have helped start an educational center, and fund over 25 water projects.
In 2016, I visited a friend in Zambia, and, again, knew that we had an opportunity. We have helped with two k-8 schools with over 700 students, an orphanage, and 2 health clinics- mostly treating people with malaria and providing prenatal care to women. In Northern Zambia, over 2/3's of minors have no access to basic human needs like water, housing, health care, and education. To help combat this, youth coaching, a community center, a sport center, and a well, are all projects in progress right now.
The uReach Story
uReach was formed in 2000 to empower people who want to make the world a better place. We have since taken over 6,000 people to international locations around the world. We have worked with high school groups, college groups, families, church groups, doctors, dentists, lawyers, men's groups, and more. Home building, water projects, school construction, medical assistance, special needs care, and helping children and youth find their way out of poverty have been our primary focus for some time. We work with people living in poverty, but primarily with those living in absolute poverty.
Absolute poverty is defined by living on less than $2 per day, per person in a household. It is almost always marked by poor sanitation, health care, education, and nutrition. Poor treatment of females is a common feature of these communities.
Many people who take their first trip to a developing nation are amazed what their resources can do to help people living this way. U really can make a huge difference.
Why focus should matter to you:
We are focused on places where we have a permanent location. We have staff members and partners in rural Baja California, Mexico, Nicaragua, and Zambia, Africa.
With boots on the ground in those locations, we can:
Maximize the efforts of our Expedition volunteers
Make sure volunteer team efforts further the mission of the local teams
Have ongoing and meaningful work throughout the year
This matters to us, a lot. We aren't doing "voluntourism". Yes, we want our volunteers to have a good time, experience new things, and eat good food, but we aren't ethnocentric enough to think it's all about us. We think you will have the best experience when you realize that your efforts and your investment matter after you leave for home.
A Final thought…
We know U have a desire to change the world in some way. We're just here to help U do that.
We aren't the heroes in your story, U are. We are just here to be your guide, and to make sure that when U serve, it matters.
It's up to U to bring your skills and your desire to serve – we'll do the rest. We look forward to working with U.